Your Community – Your College
Dublin and Dún Laoghaire Education and Training Board (DDLETB) Communtiy Colleges form an essential part of life and living throughout their local communities. Our educational ethos is one of total inclusion and mutual respect in the formation of life skills which enable young people to meet their full potential in society. We have a heritage of expertise and experience in community based education spanning 80 years of service throughout County Dublin.
Our schools have evolved constantly to offer and educational experience which is reflective of modern day need and changes in society.
Our teachers are skilled in delivery of an all-round education which meets with the personal and career development of young people
As student centred secondary schools, your community colleges believe in partnership, accountability, transparency, inclusion and respect for diversity, parental choice and equality.
Community Colleges empower students, teachers and parents collectively to achieve educational progress in a positive and encouraging atmosphere. This extends into the built environment where new schools are designed to contribute to the overall achievement of a high quality educational experience.
School Ethos
Ériu Community College is a Dublin and Dún Laoghaire Education and Training Board (DDLETB), co-educational, multi-denominational, post-primary school underpinned by the core values of
Excellence in Education
Care
Respect
Equality and
Community
The Board of Management will seek to inculcate a value for culture and belief traditions and will seek to be a caring and compassionate community where justice and truth will be central elements.
College name
The name of our school is Ériu Community College.
The college is named after Ériu, who gave her name to Ireland, Éireann/Éire in Irish. She was a princess of the legendary Tuatha Dé Danann, a daughter of Delbáeth and Ernmas.
Along with her sisters Banba, and Fodhla she reigned in Ireland in ancient times before the coming of the tribe known as the Milesians. Ériu is remembered today as she a goddess of sovereignty.
For the college community, she becomes a symbol of learning, skill and pride.
She is inspiration for many artists, poets and writers. See Jim Fitzpatrick's beautiful drawing of Ériu below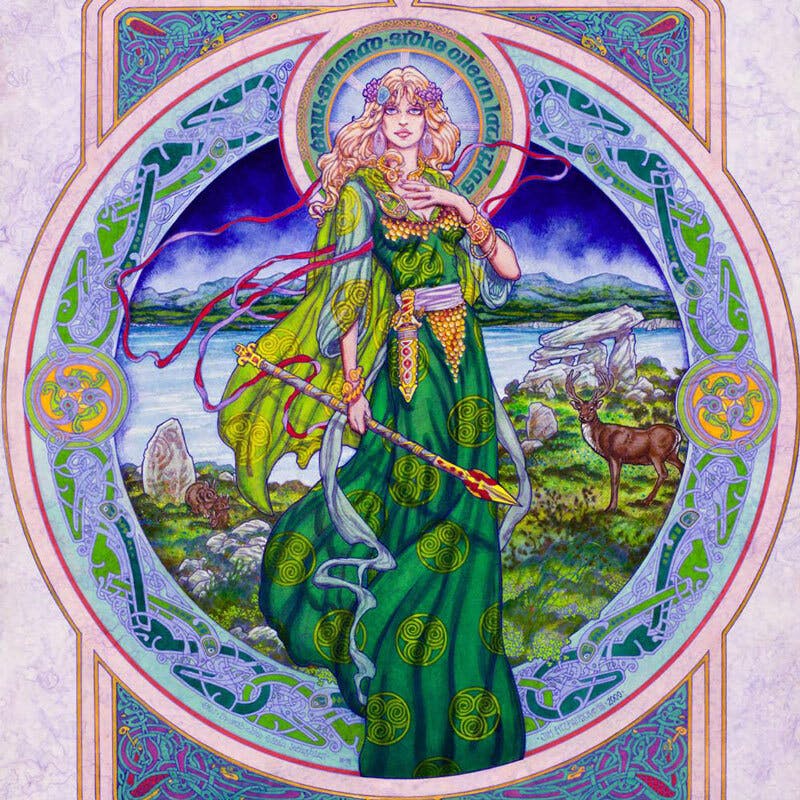 College motto
Our college motto is written in Irish as "Ag obair as láimhe a céile". This mean working hand in hand. Partnership and building relationships are at the core of Ériu Community College as we are a restorative practice college.
College Crest
Our crest in Ériu Community College is the collaborative effort of the present students, parents and staff over a number of months from September 2020 to January 2021.
It encapsulates elements of the myth of Ériu as well as encompassing some of our Celtic heritage. The central figure of the stag traditionally represents Ireland. This also reminds us of the wonderful ornate figures found in the Book of Kells, an important manuscript in the history of Ireland.
Colours represent many different things. For our crest- Green represents Ireland, growth and opportunity,
Purple represents wisdom and bravery
and
gold represents importance and value.
The golden book represents the endless educational opportunities the college has to offer to all involved.
The green oak leaves signify the college's place in Dublin 15. The Blanchardstown area was in the past known as Great Scaldwood and was one of the last great indigenous oak forests that covered Ireland.
The circular purple shape represents the many crescent-shaped gold lunulas, torcs and collars found in Ireland throughout history. These distinctively Irish cultural forms/shapes influenced European art and date from as far back as 2300 BC. The circular purple torc on our crest is a symbol of learning and wisdom.
The entire crest sits on a gold banner with the Irish words "Ag obair as láimhe a céile," which means working together. This phrase influences all our relationships and interactions in the college.
When we wear our crest on our uniform, we are linked to Irish history and we are challenged by the high expectations set for us.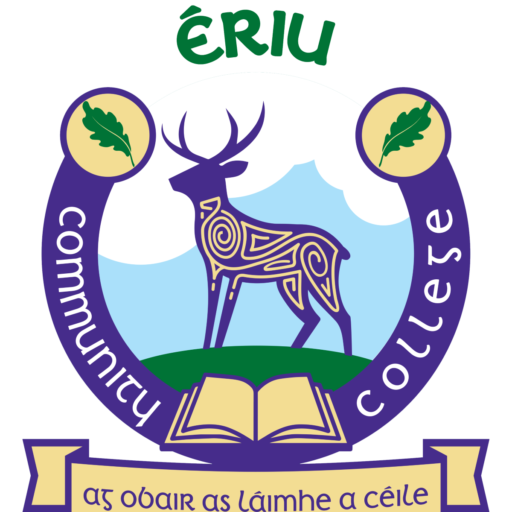 College uniform
Our uniform gives us a unique identity and we wear it with pride.
Girls – A green crested jumper, a tartan skirt with the isle of skye colours, a white blouse and tie.
Boys – A green crested jumper, a white shirt, a navy trousers and tie.
There is PE crested gear and a school jacket in the school colours.
All shoes must be totally black and no runners of any kind are allowed.
All your needs will be catered for in Grants of Manor Street Contact Jim and Karen on 01-6791626 or on their website at www.grantsuniforms.ie.
Technology – Our college is an I-pad school and we work with our partners Wriggle to provide the best service. Contact the Wriggle to avail of the deals for Ériu CC.